Jasmine Guiness & Jaeger at Fenwicks
Concept development, graphic and production design for marketing the new Jaeger & Jasmine Guiness x Jaeger collections in the windows at Fenwicks department store, London. Scheme was designed to be reused in the Jaeger flagship windows after this promotional period at Fenwicks.
Jaeger tookover the main windows on Bond St at Fenwicks department store. I developed a scheme design in two days that would need to be built and installed in a two week turnaround. The scheme had to feature Jaeger collection in the middle window and the Jasmine Guiness x Jaeger collection in the two side windows, but work together as a run of three. 
Initial concept provided by the team was an image of oversize angled frames; I developed this into a scheme with
 3D backlit frame structures that formed hanging rails, framed campaign graphics and interacted with the mannequins in the space. T
hey filled the window area and fitted around the structural columns . Photoshop visual of the design is below, followed by 3D plan.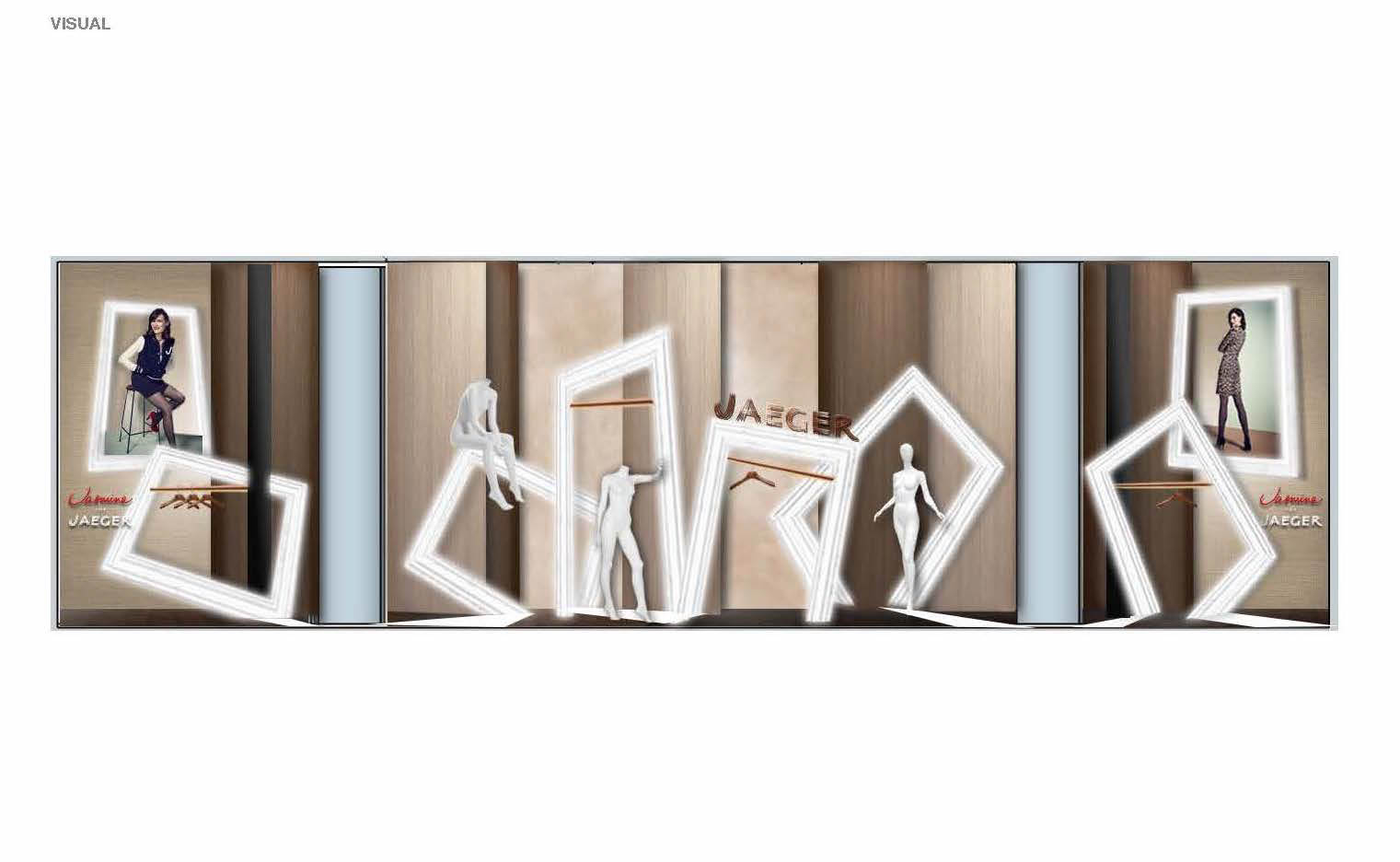 The 3 stroke detail in the frames echoes the strokes in the jaeger logo - a theme I developed with the VM team across a range of store furniture.  I created the large wood panel artworks and back wall linen prints to reflect the jaeger and jasmine guiness press campaign shots and used familiar materials that we had used previously for store furniture like white-washed wood and copper. 
Below is the moodboard for the sections containing the Jasmine collection  - this had to work with main window oversize frame theme.
Close-up of the display showing the different layers - vinyl on glass, freestanding frame structure with product on copper hanging rail, cut-out campaign graphic on wall mounted frame and graphic wallpaper print. I produced the visuals and artwork of all elements in the scheme, arranged production and managed the install.
After the promotion at Fenwicks, the scheme was planned to be removed and reinstalled into the Jaeger flagship store windows on Regent St. This meant it had to work in the closed window space and the open-backed window of the store.