Canada Goose Jackets Promotional Display
Design of a versatile display concept to promote the new hybridge light range of jackets - to be used in store areas and windows in department stores across Europe.
Canada Goose as a brand does not have its own stores in Europe, and was fairly new to display marketing. I worked on their account to develop a brand display style as well as producing concepts that they could use in marketing opportunities in European department stores and boutiques where their product was sold. I would create a concept pack with approximate costings per idea and then adapt and manage any displays that were requested to be produced.
Above was a window concept for the hybridge light jacket that was produced for UK boutique Flannels in Liverpool & Manchester. Below is the original visual concept with the jackets floating as well as a suitcase with the bare essentials for travel, to promote the idea of packing light - the jacket folds up into a small pouch, is lightweight but also will keep you warm.
The scheme also had to work in store for this department store in Helsinki. I had prototyped the original balloons to work as hanging props with torsos attached for the jackets. For this store we couldn't hang them for structural reasons, so I developed a different design that supported the balloon and torsos from the existing store slatted wall. I also had to prevent the props from swinging when people moved around the space, so I attached a clear acrylic weight at the bottom.
The client also wanted alternative concepts for the same promotion - so I worked on an idea based on their Canada Goose People feature on the website, that showed an editorial of essential items that explorers/sportspeople/film crew take with them, along with their Canada Goose clothing. The pegboard display was designed to be an adaptable system and to be used again with different graphics and items if required.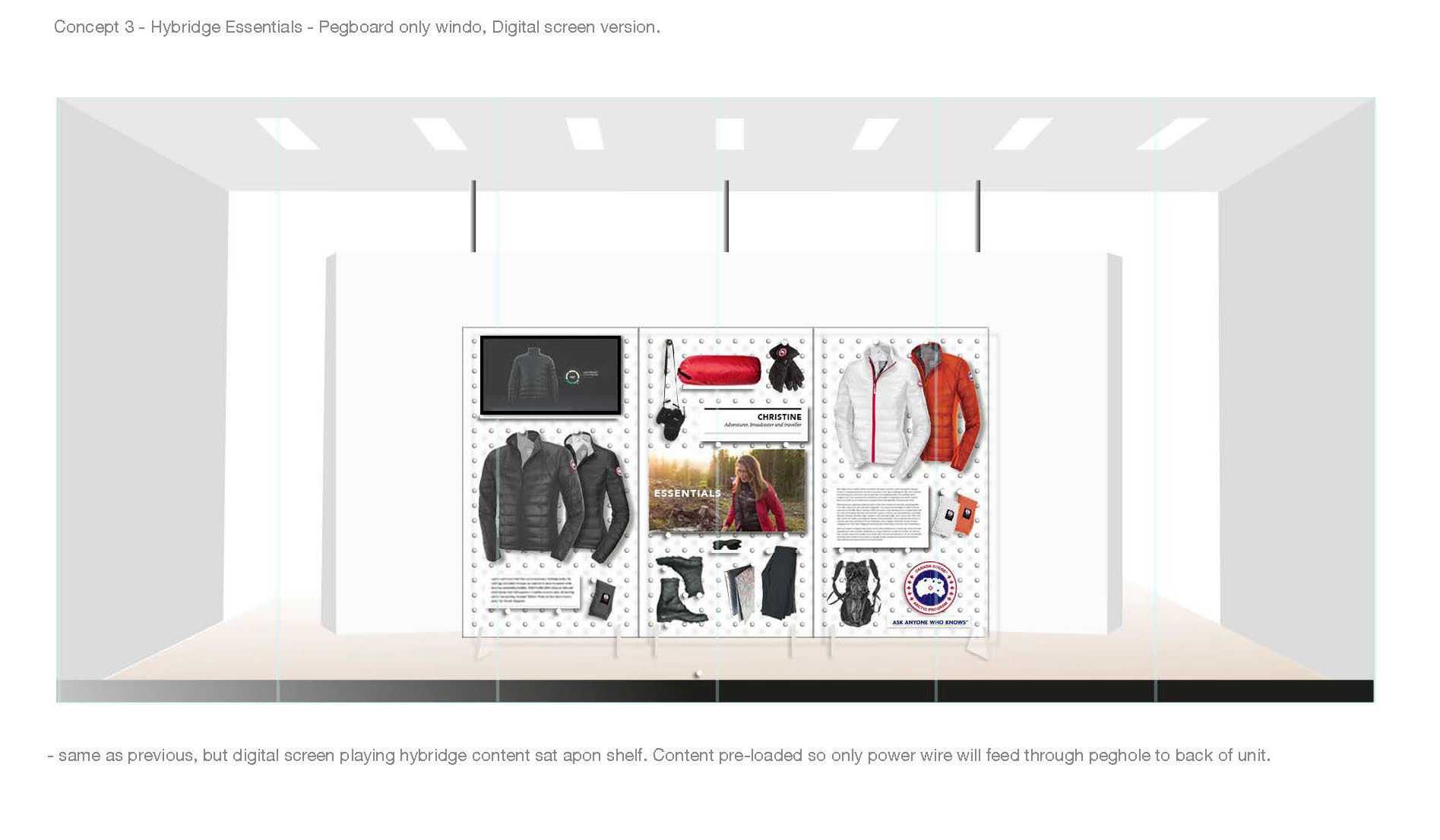 Here is the concept in use at a Sports store in Helsinki, Finland; with digital screen installed on the shelves and authentic props from the featured explorer, as well as the hybridge jackets and Canada Goose branding. I produced the artworks for print, sourced props, designed the coat hangers and pegboard structure, arranged the production of the pegboard kit and the shipping and installation of the scheme. I also arranged deinstall and shipping back of the kit to the Goose HQ in the UK.
Amongst other display projects for the brand, I also assisted their marketing department with small scale print jobs such as these VIP gift cards, produced for a sponsored party at the Berlin Film Biennale.